Hydrotech Performance Filter (HPF)
The filter offers a large filtering area in a small footprint for municipal effluent polishing and industrial water reuse.
Overview
Hydrotech has revolutionised the woven filtration market with its products and today this is no different. The Hydrotech Discfilter has been on the market for over 30 years and has recently had over 50 improvements to make it longer lasting, better value and more efficient. It has been re-named the Hydrotech Performance Filter (HPF) and its improvements have reinforced it in the Industrial and Municipal markets. It is quite simply the go-to product for polishing and cleaning wastewater.
The HPF is self-cleaning and now houses a greater number of discs with each having a 10% larger filtration area. The new version provides twice the capacity of its predecessor yet is more compact. Making it perfect for organisations requiring solutions with smaller footprints.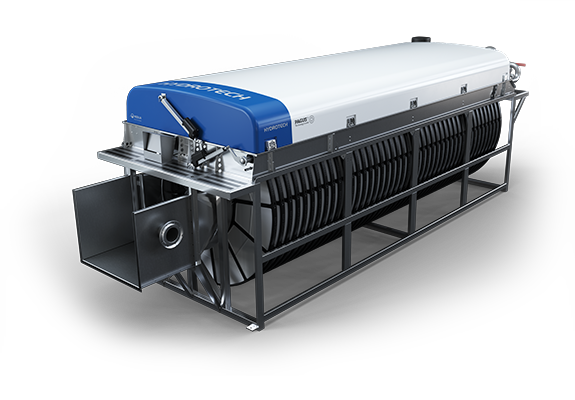 The HPF uses woven cloth filters on multiple discs to filter solids from the water and the solids are then cleaned via the counter-current backwash system. The units are used worldwide in many applications including stormwater treatment, membrane pretreatment, phosphorous removal, water reuse, and wastewater filtration.