Mobile Water Treatment
Mobile water services anywhere, 24/7. Ideal for planned hire, emergencies and disaster recovery.
Overview
Our Mobile Water Services provide pure water anytime, anywhere, 24 hours a day, 7 days a week. With flow rates from 200 litres/hr to >150m3/hr, our Mobile Water Services are ideal for planned hire, emergency call-outs and disaster recovery. Safeguarding the production of your water treatment plant, our Mobile Water Services provide flexible water services, while reducing your wastewater discharge volume and identifying reuse opportunities.
Our Flexible Mobile Water Services
Emergency mobile water services
This high-value water service has been developed to protect and provide your business with 'treated water security' in the event of an unplanned circumstance where you require a temporary, emergency water treatment plant. We can deploy equipment and engineers within four hours of your call, 24/7, and can deliver any quality and quantity of treated water for an unlimited time period, in a safe and responsible way.
Planned mobile water services
This 'customer choice' planned service provides customised, flexible and adaptable solutions for your foreseen requirements for temporary water treatment. This service provides capabilities, technologies and engineers who deliver treated water of any quality and quantity in the most cost-effective way, during open-ended usage periods and meeting the highest service standards.
Multi-year mobile water services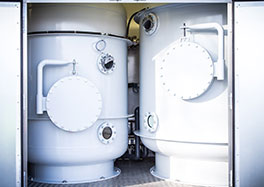 Our multi-year water service provides reliable, cost-effective and adaptable solutions to meet and exceed your long-term requirements for treated water. This service provides tried and tested standard equipment, capabilities and technologies, and exceeds quality and quantity requirements in a secure, responsible and sustainable way. Multi-year services are available over defined multi-year time periods, typically between one and 10 years, to match your needs.
Emergency Hire
01782590800
Have an emergency? Call us now!