Chemical Offering
VWT provides a wide range of chemicals suitable for multiple markets.
What are commodity chemicals?
Commodity chemicals refer to a group of chemical products that are mass-produced by a small number of suppliers in very high volumes to achieve the market's ever-growing demand.
How can we help?
We aim to meet our customer's chemical needs with the quick turnaround of a smaller local company but with the buying power and customer support systems of a larger corporation to ensure a successful, long-lasting and trusted relationship.

What chemicals can we offer?
We offer an extensive range of chemical products that, depending on the client, can be delivered in kegs, drums, IBCs and even tankers. We pride ourselves on our ability to offer both competitive pricing and agile turnaround times for our range of high quality chemicals. We have a widespread supply chain network that offers reliable and consistent stock to ensure continuity for our customers.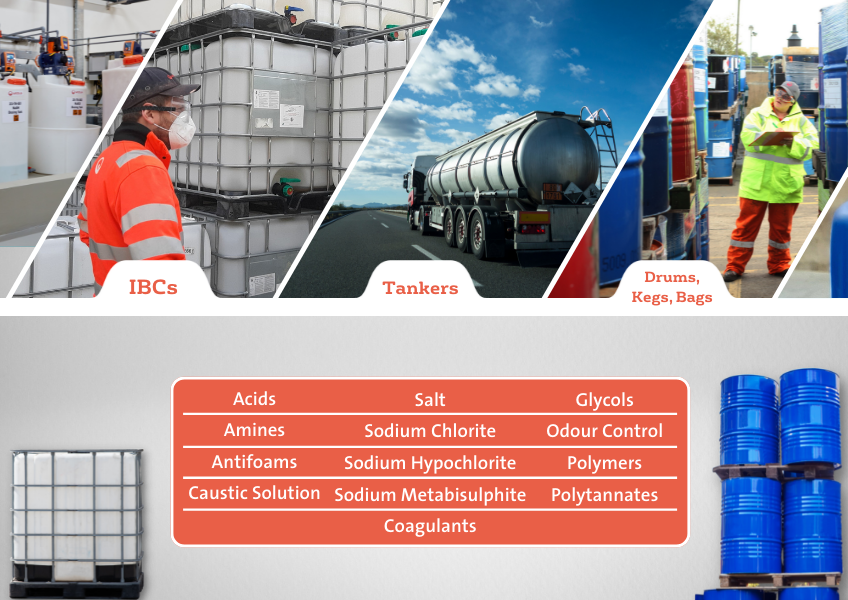 Safety and the Environment
Our Quality and EH&S principles and systems provide assurance to clients that risks from using hazardous chemicals are mitigated and controlled. Each chemical we supply is classified with respect to its potential environmental impact, (insignificant/minor/moderate/major) and treated accordingly providing site audits in some situations to determine site suitability and compliance before delivery.

Our range of chemical products aims to protect asset life, positively impact your carbon footprint and reduce your water footprint. We have a focus on research and development to formulate non-hazardous, more environmentally friendly products and these benefits can be utilised by our customers.
What are our chemicals used for?
Our products are used in multiple processes across all market segments and technologies
Process water
Industrial Water and Wastewater
Water recycling and reuse
Municipal Wastewater treatment
Sludge treatment
Power Generation
Bio-energy generation
Food Processing / Manufacturing
Cleaning and Sanitising
Pharmaceuticals Manufacturing
Brewing and Soft Drink Manufacturing