Our Water Treatment Chemicals Team
How we can help
We're passionate about reducing the cost of operation of your plant through improvement in utility usages and minimising unnecessary chemical consumption. We'll use our water know-how to bring real value to your process from the initial quotation right through to after-sales management and support. Our team of over 70 highly qualified engineers use the latest monitoring and reporting technologies. So whether you want to optimise your RO plant membranes, restore the efficiency of your boiler or minimise the risk of Legionella, we can make a world of difference.
Our experts carry out a site audit to assess the efficiency of your chemical regime safely and in compliance with relevant chemical regulations. Our experts are supported by:

Engineers
We pride ourselves on getting our engineer on-site – at the right time and with the right parts, to deliver the right solution. Our engineers are knowledgeable and trained on a wide range of water treatment systems – they work with you to support your business and develop a solution to your evolving requirements – no matter the size or scope of the sites. This is furthered with team training, where our engineers can pass on their knowledge to your team, generating consistent practice.
Engineers Reporting - Etrend
Hydrex eTrend is an online monitoring tool that records parameters from your water treatment monitoring programme, allowing for easy data storage and instant access to the latest critical trends wherever you are. Data trends and other critical information such as material safety data sheets, site survey reports and certificates are stored centrally and securely online.
The Hydrex eTrend reporting tool is designed to reduce paper usage across customer sites. Critical parameters are recorded using a PC and on completion, the report will be e-mailed to the site contact for electronic filing.
Customer Services & Logistics
If for any reason you need additional support, our customer services team will make sure you get a solution that meets your needs. Whatever your business requires, we're here to help. Having the right quantities of chemicals on-site and available is vital. Our logistics team are focused on ensuring that your chemicals are delivered promptly to your site.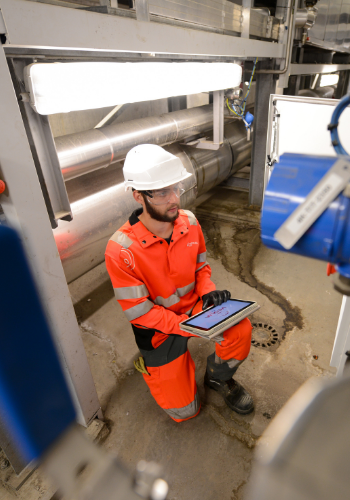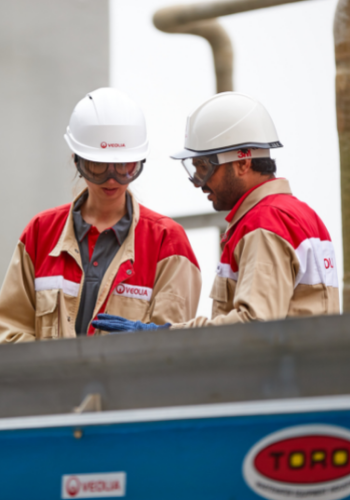 Safety comes first
All of our engineers complete the CCNSG Safety Passport Programme, which ensures they are trained in all aspects of health and safety to effectively fulfil their role on-site. We take a proactive approach in ensuring that the works are executed in a safe and controlled manner. Whether it is a scheduled visit or emergency support, they are prepared.
Backed up by Digital Services
Constant support is also available with Hubgrade, the remote monitoring portal that offers real-time data, predictive analytics and 24/7 alarm management. Our digital services can be implemented for a single technology, a range of equipment, or a complete water or wastewater treatment plant, for Veolia and non-Veolia equipment.
Please contact one of our experts for an initial consultation to see how we can impact your operations.
Please contact one of our experts for an initial consultation to see how we can impact your operations.