SENSA™
Demineralised RO water treatment for the cosmetics industry, supported by expert engineering.
Overview
Cosmetics manufacturers require stringent quality water on demand. In a highly regulated market, the SENSA™ water treatment system delivers the cutting-edge technology you need coupled with expert support for your operations.
From a small footprint, following plug and play installation, the SENSA™ is an easy-to-use water system specifically designed for cosmetics manufactuers. A simple touchscreen makes it easy to operate whilst maintenance is also straightforward.
Boasting 90% global water recovery (conventional systems offer 75%), the SENSA™ ensures low water consumption. It uses 50% less electricity too.
Flow rates can vary from 1.4 to 10m3/h providing enormous flexibility. In fact, everything about the SENSA™ makes your cosmetic water treatment more efficient.
Importantly, an 80-strong network of UK Veolia water experts are on hand to help with installation, commissioning,and maintenance. Plus, connect to our Hubgrade 24/7 remote monitoring system to let our digital technology and services improve the performance of your water treatment system.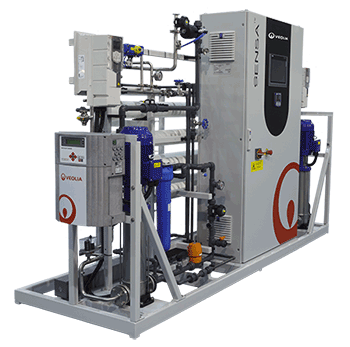 Key benefits of the SENSA™ cosmetic water system
An intelligent RO water treatment solution that's in tune with cosmetics requirements, the SENSA™ delivers exactly what you need.
Have total flexibility with a superior flow rate range (1.4 to 10m3/h)
Manage water costs and sustainability targets with 90% global recovery
Save 50% electrical costs thanks to a frequency controlled variable speed pump
User-friendly touchscreen controls and easy-access maintenance
No chemical regeneration means less downtime
Fast installation with plug and play technology
Peace of mind from Veolia water expert support (on-site and remote)