PURELAB Dispenser
Transform your lab water system with our flexible bench-top dispenser
Overview
Created with busy laboratories in mind, when combined with an ELGA Type I or II laboratory water system the PURELAB® dispenser delivers pure and ultrapure quality water with ease, exactly when and where you need it.
A simple, plug and play bench-mounted unit, the lab water dispenser can be positioned to suit your team. Adjust the height and enjoy the flexibility of a 180° rotating arm. Requiring little space - at just 580mm high and 375mm deep - it works incredibly hard for you.
Maximise your productivity by installing up to four dispensers per PURELAB® Chorus or Quest water purifier*. With plenty of functionality you'll stay in control too - dispense drop by drop or use the volume dispense feature to dispense up to two litres per minute. With so much capability the PURELAB® water dispenser, combined with a PURELAB® Chorus or Quest, delivers consistent ultrapure water day in, day out.
More accurate results
If accurate results are important to you and your laboratory, these two key features make the PURELAB® dispenser the right choice for you.
Frequent recirculation
Delivering the highest quality water, the ELGA recirculation system operates every 10 minutes. This ensures that water purity is maintained by frequently recirculating through water purification technologies. Regular recirculation prevents the risk of biofilm growth and ensures ultrapure water is available exactly when you need it.
Built in sensor
Containing a sensor 1.2 metres from the tap, the PURELAB® dispenser ensures your water quality is exactly as it should be the moment you use it. This means you achieve consistent results and can rely on your lab water system.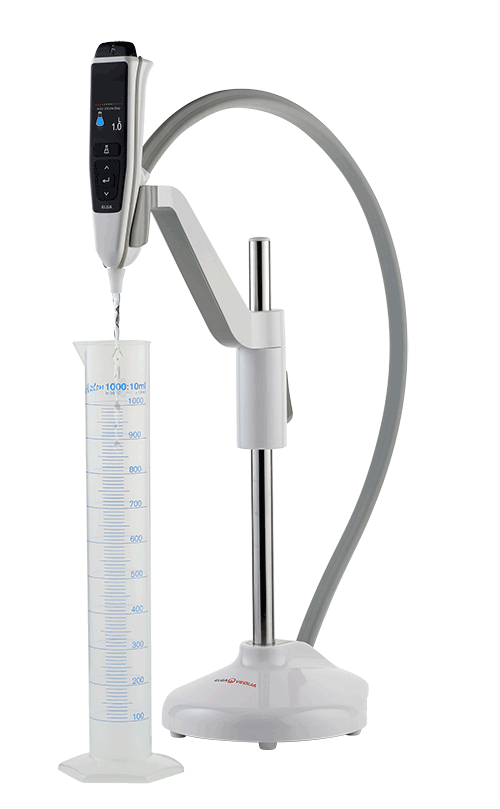 5 ways the PURELAB dispenser will transform your lab
It's compact, quick, and easy to install
You're in control – from drop to volume dispensing
Achieve accurate results with consistent water quality
Increase your productivity – install multiple dispensers per purifier
As a Veolia customer, you have our experts on hand
*The PURELAB dispenser can be used with the following Veolia products: PURELAB Chorus 1 LS/AR/GS, PURELAB Chorus 1 Complete, PURELAB Chorus 2+ and PURELAB Quest. It cannot be used with PURELAB Chorus 2, Chorus 3, and Flex.
Point-of-use ultrapure water systems for research and testing in laboratories.