Service Deionisation (SDI)
High-purity water regeneration and service deionisation service providing maximum recyclability and sustainability. Our regeneration and service deionisation service is structured and centrally managed to achieve maximum sustainability and recyclability.
Overview
Our SDI Service has been supplying a regeneration service to customers in the UK for over 50 years. The service provides an exchangeable cylinder of media, which when exhausted, is replaced by a freshly regenerated one, delivered to the customer's site. This easy to use service ensures that a constant supply of pure water is maintained.
Ordering replacement cylinders is very easy with a range of products to meet all your water needs. Our delivery options are flexible and you can rely on us to deliver on time with our own dedicated fleet of vehicles. Our experienced team can advise you on the correct cylinders and media for your application and help you with installation and start up.
We are here to support companies restarting water production post lockdown. SDI Service is a low capital cost water purifying system that can be set up in no time at all. Read more here.

A sustainable and environmentally friendly service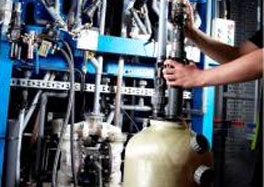 Our SDI service is structured and centrally managed to achieved maximum recylability and sustainability.
98% of ion exchange resins used in SDI cylinders are recycled
Spent resins are incinerated to produce electricity, saving on fossil fuels and landfill
We use energy efficient inverter driven pumps in our regeneneration facility
One trip per exchange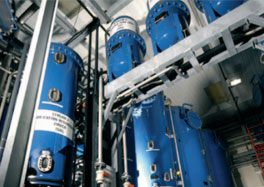 Our centralised stock holding enables us to offer quick and easy delivery to meet your timescales. By using our route planning technology and own dedicated fleet, we can make just one trip per exchange - supplying and taking away at the same time.
A service tailored to your needs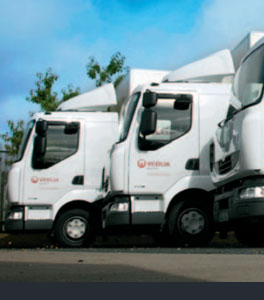 Let us take care of your pure water needs while you concentrate on your core business. We offer there levels of service to suit your operation:
SDI - Provides a straightforward exchange service for customers who own existing cylinders and equipment. Customers can order single exchange as they go or purchase discounted vouchers in advance for 3 to 24 exchanges - saving money and administration time.
SDI inclusive - Provides rental of cylinders and installation fittings so there is no capital expenditure on equipment. Customers purchase cost saving vouchers for 6 exchanges in advance.
SDI inclusive+ - Like the inclusive service SDI Inclusive+ provides the rental of equipment but additionally includes the rental of a water quality indicator. Customers purchase cost saving vouchers for 6 exchanges in advance.